Full-Service Scaffolding Company
Scaffolding Solutions is a full-service scaffolding engineering firm that services the Washington D.C. area with the design, erection, inspection, and maintenance of scaffolding systems.
We serve many markets, from commercial to government institutions, with an excellent track record of safe and efficient service. At Scaffolding Solutions, we will supply you with high-quality scaffolding for your next project.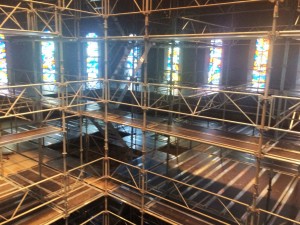 Scaffolding Services in Washington D.C
If you're looking for a scaffolding company in Washington D.C., it's important to consider their safety culture and the quality of their equipment. Scaffolding Solutions uses the advanced OCTO® scaffolding and +8 equipment, which provides you with a safer and more productive work environment. With over 19 years of experience in the D.C. area, our safe-access professionals will work with you to find the right solution for your budget. Click on the boxes below to learn more about scaffolding in the Washington, D.C. area.
Why Choose Scaffolding Solutions?
Safety and reliability are the two most important factors for choosing a scaffolding company for your next project. At Scaffolding Solutions, we've supplied scaffolding products to various Washington D.C. metro area construction projects and job sites for over 19 years. We strive to provide our customers with high-quality scaffolding rental equipment backed up by our top-notch customer service.
Our dedicated safety culture helps ensure strict adherence to the various rules of OSHA and other regulatory agencies. We supply each project with a dedicated Risk Manager who oversees our stringent safety standards. Our workers are highly trained, full-time employees who have undergone our rigorous safety training programs. When you need scaffolding services in the Washington D.C. area, look no further than Scaffolding Solutions.
A Few of the Scaffolding Projects We've Completed in Washington D.C
Request a Scaffolding Quote
Every industry and job site has unique demands that require special considerations, products, and implementations. That's precisely why it's important to pick a trusted company with over 19 years of experience. At Scaffolding Solutions, we'll work hard to provide you with high-quality equipment and customized solutions to solve your toughest challenges. Click the box below to request a free quote for your scaffolding needs.