Full-Service Scaffolding Company
Scaffolding Solutions is a full-service scaffolding engineering firm that services the Washington DC, Virginia, and Carolinas with the design, erection, inspection, and maintenance of scaffolding systems. We serve a number of markets from commercial to government institutions with a track record of excellent safe service.
Scaffolding Services For The Bladensburg Area
Our company is committed to giving you a safe experience, from the erection to the dismantling of our scaffolding for your project. The Scaffolding Solutions commitment to excellence starts with the tools we use including our exclusive use of the OCTO® scaffolding that our Bladensburg based team will deliver and oversee for the duration of your project.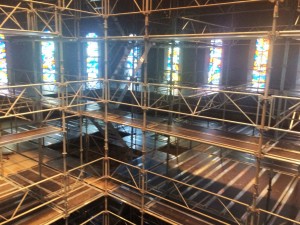 Safety on the job cannot be understated, containment is a must-have for any worksite and we can provide. Our debris netting comes in a variety of products for any construction site including:
Basic debris netting
Safety debris netting
Privacy fence netting
Personnel safety netting
Printed mesh netting
Heavy duty debris netting
Mesh debris tarps
If your job requires a more durable and covered solution we also offer construction and containment tarps. Our products' expert ability to shield and cover your worksite as well as keep out any debris or weather means you get more productivity and a better-finished product.
Common containment tarps include:
Coated airbag tarps
Coated ripstop tarps
Vinyl tarps
Durashield tarps
Canvas tarps
Common construction tarps include:
Flame retardant poly tarps
Snow lifting tarps
Mesh screen tarps
Nylon tarps
Insulated tarps
Mesh debris tarps
Often on the job, our clients will need their own elevators to move people and materials to different places on the job site. Scaffolding Solutions offers a variety of elevators and hoists to meet your needs. Come talk to us about your project and see if an elevator or hoist is necessary for you.
You may need one or many of the following:
General Construction Hoist, Lift, or Platforms
Industrial Elevators
Material Hoists
Transport Platforms
Suspended scaffolding can help you overcome the challenge of very high elevations. Suspended scaffolding solutions include swing stage platforms, which are ideal for working on tall buildings where you need to quickly transport personnel and basic tools to an elevated work area.
Suspended scaffolding is commonly used in: 
Construction

Window washing

Building maintenance 
At Scaffolding Solutions, we offer expert-designed suspended scaffolding platforms and hoist systems for your elevated working needs. 
If you're looking to do one of the following at your next construction site then you should be thinking about shoring:
Building expansions
Adaptive reuse and building reconfiguration
Load bearing wall changes
Remodeling and structural renovation
Our professional and experienced team of engineers will get a detailed description of what you need and create a customized and safe shoring solution for your project using our industry standard Waco-style Hi-load shoring system.
An often overlooked part of the construction site, trash chutes are imperative to a clean job. Scaffolding Solutions takes pride in supplying, designing, and installing trash chutes for everything from highrises to small structures.
If you're looking for a professional and safe scaffolding solution for your project in Bladensburg, MD give us a call or email us and get a free quote.
Areas we serve in Maryland
If you don't see your area listed below, give us a call and we'll try to help.